Frequently Asked Questions
To help you to quickly plan your stay with us, we have put together a set of frequently asked questions with answers curated from information gathered through thousands of inquiries made by our guests over the years. To help answer any additional questions, please take some time to review our campground rules and policies.
How far is the beach from Campers Inn?
The beach is just 300 Yards away! We have a pedestrian and golf cart crossing on Thomas Dr. with a beach access path adjacent to the gate next to the store.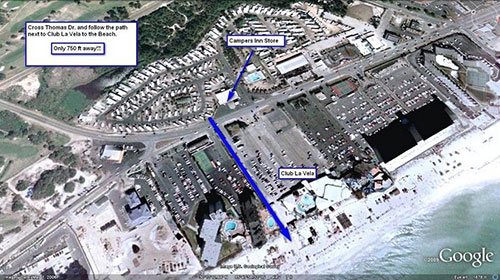 What is required to book a reservation?
Reserving with us is easy!  We typically need the following information when you contact us in addition to the dates you plan to visit us:
Contact Information (Name, Address, Phone, and Email)
Information on the type and length of your RV
Credit card information.
To make a reservation you have to be at least 18 years old with an I.D.
Does Campers Inn Offer Any Discounts?
We offer a discounted rate if you are a current Good Sam Club member, Active Military, or a current AAA Member.
If you are you will receive a 10% discount on our daily rate.
Discount applies only to the daily rate schedule.
Weekly & Monthly rates are already discounted.
What is your reservation & cancellation policy?
Camper's Inn cannot guarantee any specific camp site, Campers Inn reserves the option and the right to re-assign spaces as necessary at any time to optimize our occupancy at all times.
For a standard reservation you'll be charged a 1 night deposit.  This deposit is refundable unless cancelled less than 3 days prior to your arrival.
For all holiday and special events (bike week etc.), a 3 night deposit is required and is refundable unless cancelled less than 14 days prior to you arrival date.
Cancellations: Standard reservations have a 3 day cancellation policy.  All Holidays and Special Events have a two week(14 Day) cancellation policy. Rates and cancellation policies are non-negotiable.
Learn more about our campground rules and policies here
What is your pet policy?
We are a pet friendly park and accommodate the growing trend of folks traveling with their pets.  We also have a few pet park rules as well, find that here!
Pets MUST be kept on a leash and under control of their owner AT ALL TIMES!
There is no exception to the leash requirement in the park except within our fenced dog run area adjacent to restrooms / laundry building.  Pets are allowed off-leash in this area only.

Pets are not allowed in the General Store Area, Cabins, in the Pool Area, Bathhouses, or the Kids Playground area.
Pets may not be left outside unattended.
Excessive Barking – Please don't allow your pet to interfere with the peace and quiet of your neighbors and our other guests.  If your pet is disturbing others, we will ask that you get it under control.  If it continues we will ask you to leave the park without refund.
YOU MUST CLEAN UP AFTER YOU PET, IF YOU DON'T YOU MAY BE ASKED TO LEAVE.  We have numerous pet waste stations throughout the park where you can deposit pet waste, please respect our other guests and keep our park clean.  Pick up after your pet immediately!
How many people are allowed per campsite?
We have no general rule here but do keep in mind the following: Your reserved site includes 2 adults and children under 10.
If you have additional people with you over 10 years old, there is a $5.00 per day charge per person.
We do not allow tents on RV Sites. This means we would expect everyone camping with you would need to fit in your assigned RV site.  If you need extra space for more people, please make arrangements for additional sites.
How many vehicles are allowed on a campsite?
Our rules  state that "Only one camping unit and one vehicle per site"  Our camp sites are not designed to accommodate more than that.  If you have multiple vehicles please make arrangements at our office to park them in our overflow area. Please do not park in neighboring sites.  No parking in the roadway or partially blocking the roadway
Can my kids drive my golf cart or other vehicle in the park unsupervised?
If over 16 & properly licensed, and mind our speed limit (5MPH) Yes.
Golf Carts and other vehicles must remain on the pavement.
Please do not park in empty sites or you will be towed at your expense.
Please respect our other Campers and do not drive your cart through campsites or through other areas.
Park it on the pavement.
CHILDREN UNDER 16 ARE NOT ALLOWED TO OPERATE ANY MOTORIZED VEHICLES WITHIN THE PARK AT ANYTIME WITHOUT ADULT SUPERVISION
Are we allowed to have a campfire on our site ? Can we use Fireworks?
Campfires – Yes, as long as it is contained in an above ground fire pit with a screen cover only.  No Fires on the ground!  If you need firewood, see us at the store!
Fireworks – Absolutley NO!  Use of any fireworks are not allowed anywhere on Campers Inn property at anytime. Both ground fires and any fireworks that leave the ground are prohibited by county laws.
Can we have visitors in the park?
Yes, Our policy on that is all visitors must check in at the office and provide us with which site number they are going to.  Visitors will receive a temporary parking pass if needed. For the safety and consideration to all of our guests we ask that you follow this policy. All park visitors must leave by 11:00 PM or you will be charged an additional $5.00 per person for the day.
Do you have facilities for the disabled or handicapped?
All of our public facilities are ADA compliant, including the Store, Reservation Office, Swimming Pool, Restrooms & Showers, and Winston Hall.  We also have a Handicap accessible cabin.
Our beach access path is also accessible to the sand dune.  Specialized equipment is available to rent locally for the disabled to get out on the beach & to the water.
Please inform our staff at the time you reserve a site if you have any special needs.
What is in the cabins?
One full-size bed, one set of twin size bunk beds, AC and electrical.  You will need to bring your own bedding and other camp supplies.  See more details on the Cabins page. We also provide an outdoor BBQ grill between each cabin.