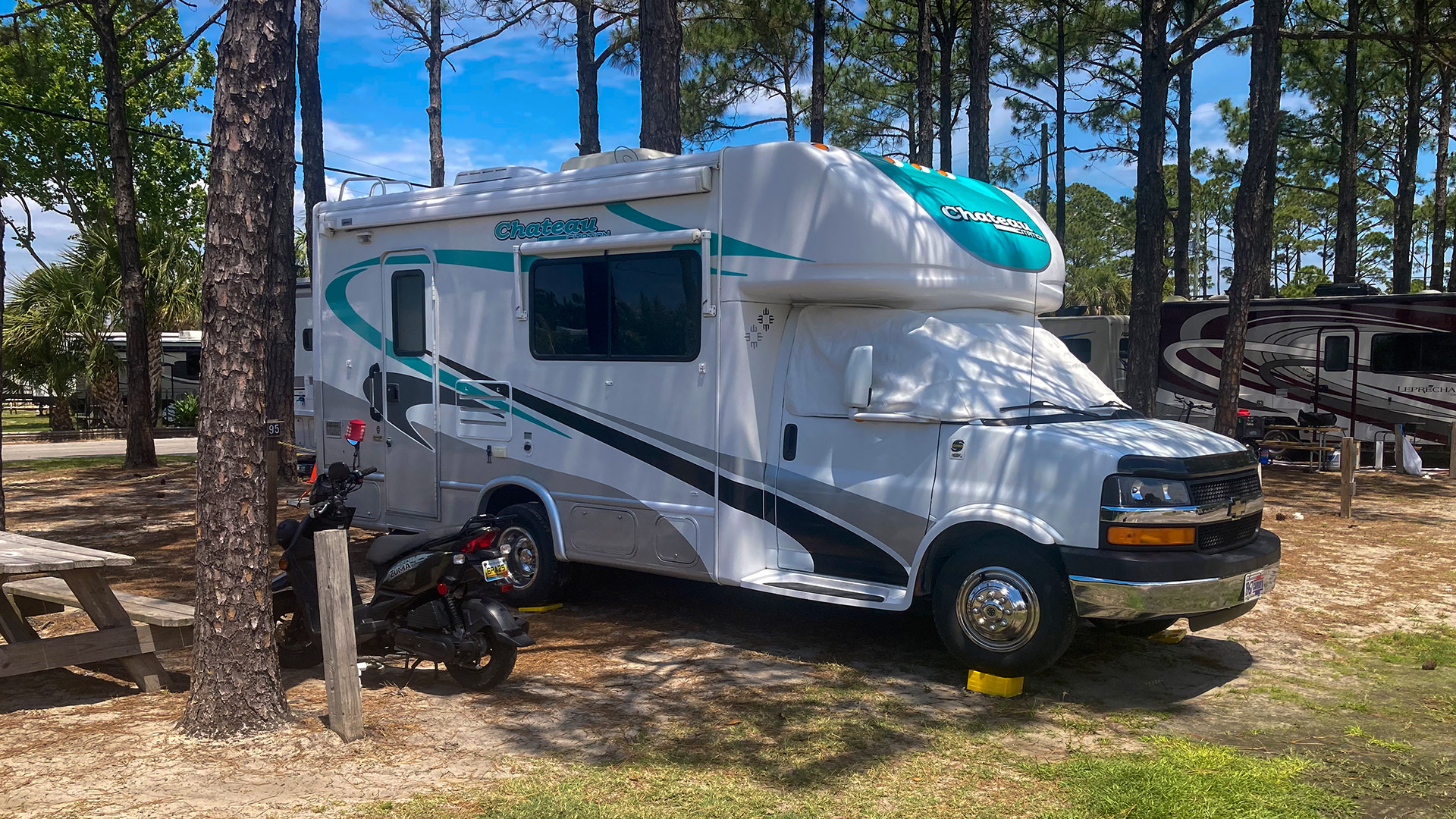 PARK RULES AND REGULATIONS
At Campers Inn, our desire is for every one of our guests to have a quality experience during their time here, this means we need a few campground park rules and regulations to ensure every guest has the opportunity for the best possible vacation during their stay at Campers Inn Inc.
The Basics are below, but there are numerous reasons not listed here that can result in you being asked to leave the park. The management reserves the right to make this determination for any reason and reserves the right to refuse service to anyone, No Refunds are given if you are asked to leave the park for any reason.
If an issue arises, please contact the office first.  If after hours please call our emergency contact posted at the office.
Keep it Slow! 5 MPH!
Please keep it slow, no reason to be in a hurry.  This policy is strictly enforced for the safety of our other guests.  This policy also includes golf carts and/or other motorized or electric vehicles that are operated within the park.
Below are general park rules related to your campsite.
Check-out time is 12:00 PM – Cabin Check out is 11:00 AM (Late check-outs will lose deposit. No Exceptions) No Refunds if you are asked to leave the park. Please re-register for additional days by 10:00 AM.
Turn gate card into office for refund, no refunds for damaged or bent cards. Deposit $10.00.
Only one camping unit and one vehicle per site, please see office for additional vehicle parking arrangements. Please do not park in unrented campsites.
SPEED LIMIT IS 5 MPH IN THE PARK. Keep it SLOW!!
Reservations are encouraged, if you request a specific lot we reserve the right to re-assign space if necessary in order to maximize our occupancy.
Parents are responsible for the whereabouts, safety, and conduct of their children at all times.
All minors must have adult supervision after 8:00 PM.
Ground fires and fireworks are prohibited by county law. Above ground fire pits with screen covers are allowed.
Trash. Place trash in trash bag(s) in front of site.  Pick up is at 10:00 AM and 2:00 PM.
No clotheslines and ABSOLUTELY DO NOT ATTACH ANYTHING TO TREES.
QUIET HOURS ARE 10:00 PM TO 7:00AM. Loud music, abusive language, rowdiness, drunkenness, or use or possession of drugs will not be acceptable at any time. If an issue arises we will contact you to comply, if it continues you will be required to leave the park with no refund.
VISITORS– All visitors must register at office and receive a pass. All guests must leave by 11:00 PM or pay an additional charge.
NO Smoking in any campground facility, this includes bathhouses, Winston Hall, Cabins, and store. OUTSIDE SMOKING ONLY.
PETS: Pets are welcome, however they must be kept on a leash and kept quiet.  Pets are not allowed in the Store, Cabins, in the Pool Area, Bathhouse or the Playground area.  Pets may not be left outside unattended.  YOU MUST CLEAN UP AFTER YOUR PET, if you don't you may be asked to leave.
PLEASE LEAVE YOUR CAMPSITE CLEAN!  PARENTS PLEASE MONITOR YOUR CHILDREN!
POOL RULES (Pool Hours are 9:00 AM to 8:00 PM). 
Swim at your own risk – NO LIFEGUARD ON DUTY.
Children under 12 and non-swimmers must be under adult supervision at all times.
NO DIVING, Running or Horseplay in the pool area.
NO GLASS or breakable containers allowed in the pool area.
NO PETS IN THE POOL AREA

Pool will be monitored and closed for treatment, per Health Dept. regulations.
Vehicles, Golf Carts and other utility vehicles
Vehicles
Parking passes are issued when checking in for one vehicle at your site.  If you have more than one vehicle, please inform our office staff at the time you check in.  Additional passes will be issued to park in our overflow parking area.
Any vehicle without an appropriate parking pass is subject to being towed at owners expense. 
Parking passes are for your campsite only.
Please do not use our storefront parking lot for campground parking
Golf Carts / Other Vehicles
Golf Carts and other vehicles must remain on the pavement.
Please do not park in empty sites or you will be towed at your expense.
Please respect our other Campers and do not drive your cart through campsites or through other areas.
Park it on the pavement.  Do not park any vehicle on the concrete patio.
CHILDREN UNDER 16 ARE NOT ALLOWED TO OPERATE ANY MOTORIZED VEHICLES WITHIN THE PARK AT ANYTIME WITHOUT ADULT SUPERVISION
PLEASE DO NOT FEED THE WILDLIFE, FERAL CATS, OR STRAYS!
The Lagoon on the North side of our RV sites hosts a wide variety of wildlife to check out, Osprey's, Eagles,and other birds, turtles, as well as an occasional Alligator… usually there is at least one that calls this area of the lagoon home.  Please be aware of this and use common sense if you, your pets, or children are in this area.
All Persons entering the campground do so at their own risk
Absolutely No Refunds due to weather or due to an early check out, No Exceptions.
Rates are subject to change without notice or due to special events.
All vehicles and RV's entering the park must be insured.
Management is not responsible for damage, injury, or loss to either person or property
Any guest destroying or damaging park property will be expected to make due restitution
Management reserves the right to refuse entry to the premises to any person who has evidenced a disregard for any of our rules or policies and reserves the right of dismissal from the campground for any violation of our rules and/or policies.
We are a pet friendly park and accommodate the growing trend of folks traveling with their pets.  We also have a few pet park rules as well, find that here!
Pets MUST be kept on a leash and under control of their owner AT ALL TIMES!
There is no exception to the leash requirement in the park except within our fenced dog run area adjacent to restrooms / laundry building.  Pets are allowed off-leash in this area only.

Pets are not allowed in the General Store Area, Cabins, in the Pool Area, Bathhouses, or the Kids Playground area.
Pets may not be tied up and left outside or left unattended.
Excessive Barking – Please don't allow your pet to interfere with the peace and quiet of your neighbors and our other guests.  If your pet is disturbing others, we will ask that you get it under control.  If it continues we will ask you to leave the park without refund.
YOU MUST CLEAN UP AFTER YOU PET, IF YOU DON'T YOU MAY BE ASKED TO LEAVE.  We have numerous pet waste stations throughout the park where you can deposit pet waste, please respect our other guests and keep our park clean.  Pick up after your pet immediately!
RESERVATION AND CANCELLATION Policies
Camper's Inn cannot guarantee any specific camp site, Campers Inn reserves the option and the right to re-assign spaces as necessary at any time to optimize our occupancy at all times.
For a standard reservation you'll be charged a 1 night deposit.  This deposit is refundable unless cancelled less than 3 days prior to your arrival.
For all holiday and special events (bike week etc.), a 3 night deposit is required and is refundable unless cancelled less than 14 days prior to you arrival date.
Cancellations: Standard reservations have a 3 day cancellation policy.  All Holidays and Special Events have a two week(14 Day) cancellation policy. Rates and cancellation policies are non-negotiable.